Back to news
[PR] MG Tech specialist in transitics and conveying lines
November 2021 - Press Releases
The transit system is at the service of our customers' machines to best meet production challenges. It must facilitate the circulation of incoming and outgoing products. The handling of boxes, whether empty or full, and the conveying of products are essential in the industrial sector because they make it possible to supply the entire production chain and thus interconnect the packaging equipment (case formers, case packers, palletizers …).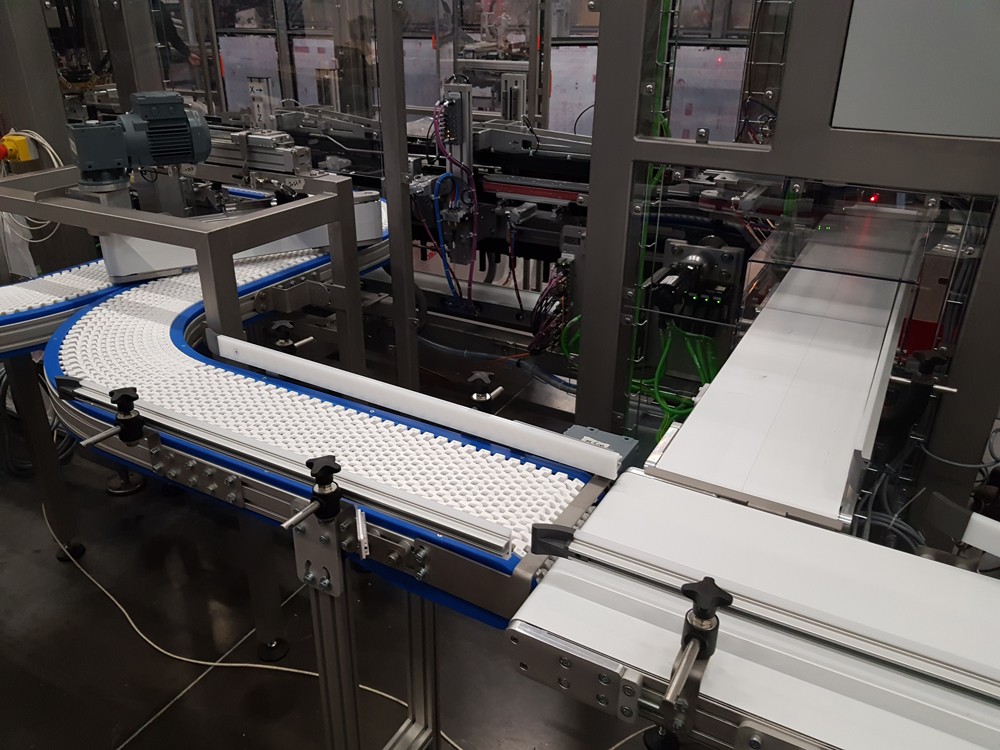 As a specialist in conveying lines for nearly 20 years, MG Tech strives to find and offer the most compact solutions, looking for technical and economic efficiency but without compromise on the result. "Conveying is taken into account from the start of an end-of-packaging line project, it is never considered as an added part" assures Xavier Boileau, technical sales expert specializing in conveying lines.
Thus, our teams are able to offer different types of conveying to best meet customer needs:
the conveying of individual packaged products (primary packaging) such as, for example, cheese, white bread, boxes of tea, trays of ready-made meals, packaged pastry products: this type of conveying supplies automatic case packers or checkout stations manual boxing;
the conveying of empty boxes allowing the distribution of empty boxes at the exit of the case erector, for example, at several points towards manual or automatic casing lines;
the conveying of full boxes exiting case packers or exiting ergonomic stations (manual stations) to manual or automatic palletizing stations;
aerial conveyor: MG Tech has already done a large number of aerial conveyor projects customized according to the environment of our customers, thus allowing them significant savings in terms of space and ground circulation.
"Generally, customers need to set up conveying lines for logistical constraints (avoiding manual movements from point A to point B), locations (the various stations are far from each other) or constraints hygiene (case erectors or case packers are placed outside production areas to avoid product contamination)" explains Xavier Boileau. "This conveying expertise is necessary at MG Tech because it allows us to control the entire process and the customer's transit circuit and thus to offer complete and turnkey solutions with our other equipment (case erectors, case packers, palletizers, etc.)" continues Xavier Boileau.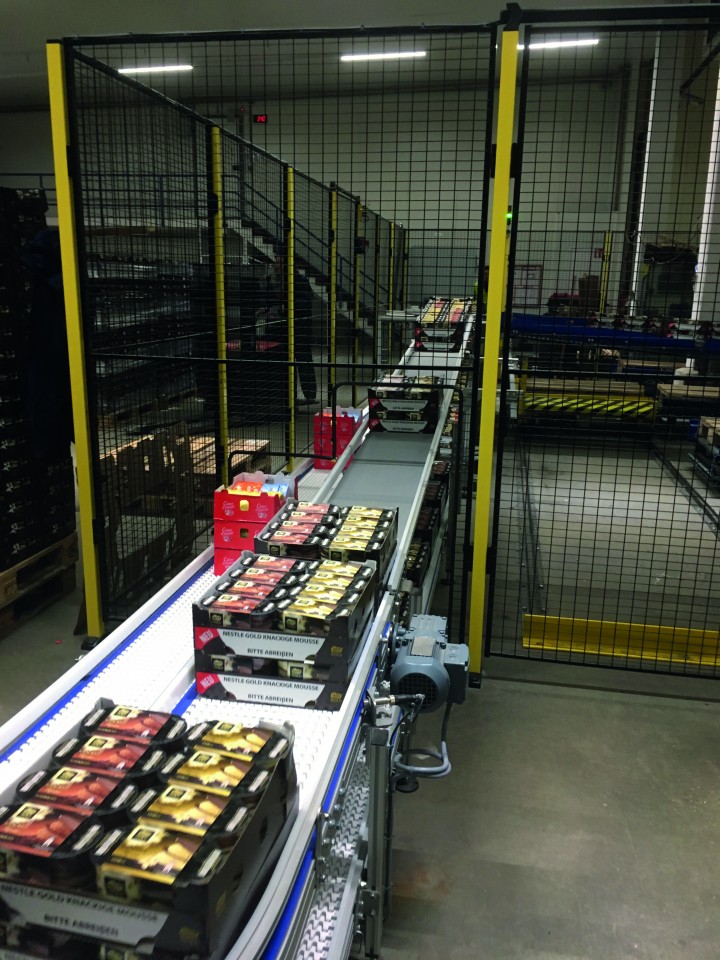 At MG Tech, we offer our customers different conveying technologies depending on the nature of their projects:
modular belt conveyors, for conveying full or empty boxes, available in aluminum (for less restrictive environments) or in stainless steel (for the transit of bare products or cleaning requirements). This type of conveyor allows complex layouts in three dimensions by integrating horizontal or vertical curves;
flexible belt conveyors allow certain functions such as up / down, inkjet marking ... They can be used in combination with modular conveyors on straight sections;
pallet chain conveyors for the transfer of narrow products such as bottles or boxes of cotton swabs.
MG Tech is also developing intelligent modular conveyors that allow sorting, routing or ejecting products or boxes: thanks to sensors and actuators integrated directly into the conveyor, products can be transferred from in a secure manner, avoiding the addition of protective casings or jacks to push the boxes.
MG Tech Group presentation
Specialist in industrial robotics for end-of-line packaging solutions for food, pharmaceutical and industrial activities, the group has diversified into mobile robotics with the manufacture of AIV-AGV and pusher tractors.
Labeled "Vitrine Industrie du Futur", the MG Tech group has made interconnectivity a pillar of its strategy. Day after day, the MG Tech group is committed to supporting its industrial customers over the long term with reliable and scalable equipment that offers greater productivity, agility and comfort.
Press contact
communication@mg-tech.fr
+33 (0)2.41.73.15.48