Back to news
[PR] MG Tech launches a new modular and scalable case erector
January 2022 - Press Releases
MG Tech, manufacturer of end-of-line packaging solutions, is launching its new ECOBOX case erector on the market.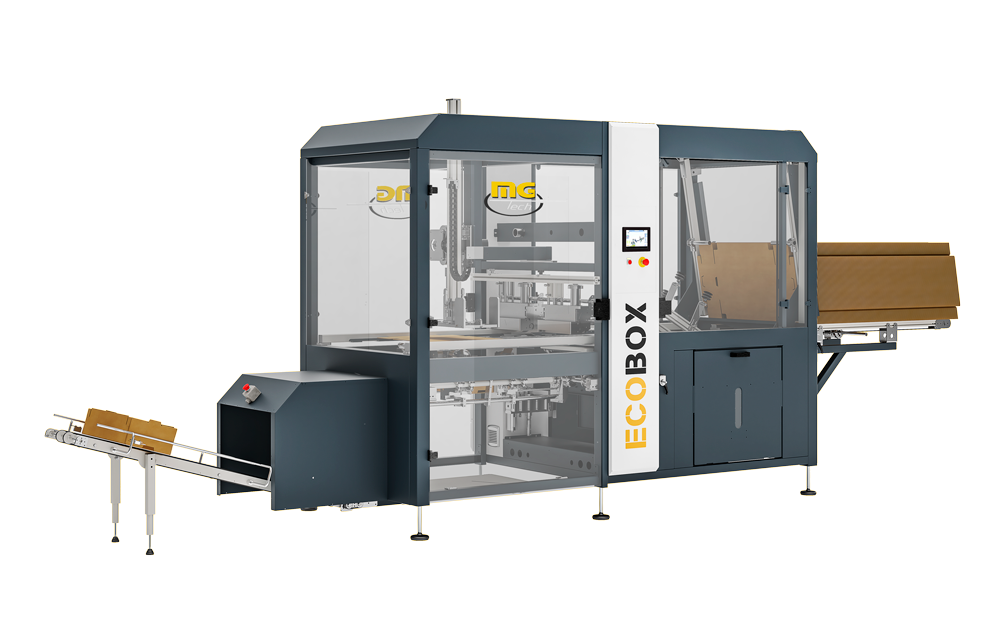 Perfectly suited for the case shaping of a wide range of cardboard blanks (boxes with 4 glued corners, dihedral boxes or even boxes with ledges), this new ECOBOX case erector has many advantages:
An adaptable cardboard magazine
This new machine is equipped with a modular magazine. In fact, the manufacturer will be able to choose between a "small capacity" module, with a vertical magazine that can contain up to 600 mm of cardboard blanks, and a "large capacity" module with a horizontal magazine whose capacity can reach up to 1500. mm of cardboard.
This major advantage allows manufacturers to adapt their machines according to the location of the production line, the rate and even the budget.
1 machine for 18 configurations! 
In addition to the choice between two cardboard magazines, this equipment has multiple configurations: different layouts of the exit conveyor belt are possible (at the front, on the right or on the left), it is capable of handling different types of cases (boxes with 4 glued corners, dihedral boxes or even boxes with ledges), it is available in 3 sizes (small – max 750 x 750 mm blanks, medium – max 1000 x 1000 mm blanks, large - max 1250 x 1000 mm blanks).
An ergonomics machine
"Placing cardboard blanks in the magazine of a case erector is a frequent operation and often not very ergonomic due to the size and weight of the blanks. When designing the ECOBOX case erector, our Design Office particularly studied this function, both on the vertical and horizontal version" explains Serge Pitois, product manager at MG Tech.
MG Tech therefore offers a machine that is perfectly ergonomic and suitable for operators thanks to:
A loading height of 950 mm
Full height access doors allowing access to the entire machine
Magazines designed to place cardboard blanks as close as possible to the machine, without having to stretch out your arms.
A controlled case shaping
The ECOBOX case erector has a very efficient case shaping station. The latter is equipped with a body geometry control system by pneumatic actuators at the 4 corners of the body. It also ensures the pressing of the hot melt glue at the stop by 4 pneumatic actuators at the corners of the cardboard to ensure optimal bonding.
Easy and quick format changeovers
Thanks to the step-by-step guidance available on the HMI, format changeoverss on the ECOBOX are very easy and quick to perform, thanks in particular to position sensors, cranks and format stops.
« The effortless adjustment of the machine, thanks to a new guidance process on ball bearings and clamping handles, is within the reach of each operator" indicates Fabrice Bréheret, R&D Director.
With a production rate of up to 33 cases / minute, the new ECOBOX case erector perfectly meets the needs of the agro-food, industrial, pharma-cosmetics and logistics sectors.
Press contact
communication@mg-tech.fr
02.41.73.15.48